Tez Woody Agarbatti 780 gm amazing Incense sticks
₹ 420.00
Tez Woody Agarbatti:-  Natural Incense – The Fragrance of Tranquility
Tez Woody Agarbatti Natural Incense is a wonderful blend of natural oils and resins with a subtle spicy hint of cinnamon. It is a premium offering by Jain Products Agarbathies. The woody and herbaceous aroma of the incense sticks is an instant mood enhancer and stress reliever. The unique formulation of Woods, with all its natural goodness, purifies your ambience and promotes tranquility, peace and relaxation.
Excellent Quality Standards
We conduct 14 quality checks to ensure every Tez Woody Agarbatti burns uniformly, so every prayer is free from interruption.

We use 100% recyclable materials for our packaging.

Our products are made with the highest global quality standards without harming the environment, in the safest manner.

We empower rural women by providing employment.
10 in stock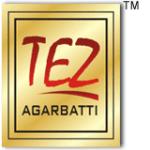 Description
Key Features of Tez Woody Agarbatti
Total 780 gm Tez Woody Agarbatti Incense Sticks.

130 gm each in 6 Boxes.

Hand Made Sticks with Natural oils.

Best suited for Special occasions, office Use or to Gift someone.

Soothing Natural Room Freshener.

Aroma last for hours even after use (under normal conditions). 

Burning Time: 30-40 min.

Length- 8 inches.
Are you planning to Gift something unique to someone? Then, you are at the right place! Pick from an extensive range of Fragrances for your family and loved ones. "Gift of Forest" has got them in a variety of vibrant colors and fragrances, like this Tez Woody has Strong Aroma and Premium quality fragrance. Tez Woody has total 900 gm sticks. Best suited for special occasions, office use and as a Gift to someone.
Fragrance Last for Hours even after use (under normal conditions). Use as a Precious Gift for your loved ones, gift a fragrance that becomes a memory to cherish.
Tez Woody Agarbatti stimulates the base (Seventh) Chakra, improving self identity and trust. In the Ayurvedic healing tradition, it promotes energy and enthusiasm, increasing your self­-esteem and zest near your door welcomes your guests and attunes them to your home's positivity, encouraging them to leave their doubts and anger outside. Sandalwood's magical powers will enhance your meditation and increase the power of your wishes.
Tez Woody Agarbatti or "Chandana" is used in Ayurveda, an Indian natural healing tradition. Burning aromatic Sandalwood Incense Sticks will release natural antiseptics into the air. Breathing in the aromatic smoke from a Sandalwood incense stick can help to lift melancholy and promote restful sleep. It subdues aggression and irritability, Promotes compassion and openness and enhances meditation.
Sandalwood is particularly good for stress relief. Sandalwood is also an aphrodisiac, and can stimulate a sensual mood. The strong aroma given off by a Sandalwood Incense makes them a good tool to use during meditation exercises, can add spice to more mundane tasks. Use the heady aroma of Sandalwood to help your mind drift to more beautiful and spiritual surroundings.
Light up Sandalwood Incense Stick when you're ready to start exercising, such as on an exercise bike, using your Bowflex or during aerobics. As you exercise close your eyes and breath in the heady aroma, letting your mind drift with its scent. After a few deep breaths, imagine that rather than being in your room or gym, you're cycling along a mountain path, perhaps in the mountains, under a warm summer sun.
Imagine the aroma coming from the beautiful trees that line your path. You'll find this passes your exercise time more quickly and for sure is much more enjoyable!
About this item
Woods Natural Incense Sticks from the House of Jain Products Agarbatti.

Length of the stick 9″ and Burning Time 40 Minutes.

This Pack contains 6*130=780 Grams of Woods Incense Sticks, each pack contains approximately (156 Incense Sticks).

Fragrances : Woody, Sandal, Resin, Masala, Earthy, Cedar, Ambe.

The unique fragrance of Amber with a touch of Musk and Sandalwood with a refreshing note of Geranium. transports you to a haven of harmony and bliss.
World Class Products
We make world class products that are exported to 65+ countries.

We have a legacy of three generations in original fragrance creation.

We follow international fragrance ingredient standards.

We are India's first carbon neutral manufacturer of incense, air care and puja products.
Brand
Tez Agarbatti
JP Agarbatti Incense Stick Manufacture was established in the year 2004 at Ratlam in Madhya Pradesh, Mr. Rajmal Selot, the Chairman of the organization has given a distinct edge to the company with his innovative skills. Under his talented management, company has achieved specialty in the manufacturing of Tez Agarbatti, Arrow Incense Stick, Incense Stick, Legend Incense Stick, Tez incense Agarbatti Classic, incense Agarbatti sticks, Gurukripa Flora Agarbatti, Agarbatti Incense Sticks, Bal Krishna Agarbatti, Agarbatti Incense Stick, Bhakti Vandan Agarbatti, Mix Series of Agarbatti etc. At present, we are well known as one of the overriding Incense Stick Manufacture Ratlam and suppliers based in India. Our Agarbatti are Known for their pleasant fragrance, non toxicity nature, less smoke release and for many other unique features, the range of our fragrant incense Agarbatti stick are broadly used in house, holy place, aromatherapy centers and in many other places for mask smell and create a peaceful environment.