Sale!
Arihant Blue Rose Agarbatti Blue color 780 gm incense sticks
1. Length = 8 inch
2. Color = Blue
3. Material = Natural floral extracts
4. Type = Machine rolled
5. Premium Masala agarbatti
6. Burning time = 50-60 mins
7. Weight = 130 x 6= 780 gm
8. Pack of 6 units
9. Shipping Free
10. Long Lasting Fragrance
4 in stock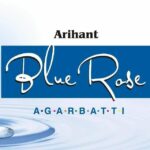 Description
Arihant Blue Rose Agarbatti is the Flagship product of Arihant Incense Countrywide Company (AIC). AIC is also the manufacturer for the wide range of Premium agarbatti and Dhoop Sticks in India.
Get long Lasting Fragrance- These Agarbathi brings you the most soothing and refreshing fragrance sticks that are ideal for your home and workplace

Whether you are using them for meditation or spiritual purpose or just for relaxing, these will lift up your mood within a few seconds, and create an amazing atmosphere all around

Easy to use and suitable for everyone, these incense sticks worth your time. You can also gift it to your dear ones on a special occasion to make them feel special and loved

Non Toxic. Hand Rolled in India. No Animal By-Products. No Child Labor Used, Environment Friendly
Made from natural herbal products, Incense sticks assure long-lasting and mesmerizing aroma that will undoubtedly add more to the aura of a room. Natural fragrance sticks make the environment negative energy free. Incense sticks pack is specifically designed for providing enthralling aroma that can soothe the environment and boost the positive energy. Raise your spirits and boost confidence, optimism and cheerfulness by investing in these quality and superior incense sticks that are long lasting and mesmerizing.
Blue Colored Floral Incense Sticks. Strength – Strong. Economic pack (pack of 6) consist of around 600 flora incense sticks. Best suited for daily use. Hand made sticks with natural floral extracts and essential oils.
Various hues of nature symbolize our culture and tradition, values and practice as well as the perception and beliefs. It is natural for us to perceive anything larger than our awareness like the sky, the oceans, rivers etc. to be blue in color. Blue represents power, magnificence, bravery, stability and depth of character. It forms the basis of all-inclusiveness.
Incense from the house of Blue Rose Agarbathies is known for their exclusiveness and Blue Rose incense sticks are no exception to this tradition of excellence. It anchors floral, cosmetic and spicy notes in a fresh and captivating spirit. Entangle yourself in the irresistible magical fragrance of Blue Rose incense sticks.
About this item
Material: Plant produce, bamboo, deodar wood, oils and fragrance. Color : Natural Brown. Charcoal and harsh chemical free.

Saumya-gandha; is the Sanskrit name for rose. Its wonderfully intense, is sweet floral fragrance that elevates the mood and calms the nervous tension.

Aromatherapy Premium Hand rolled Incense. International Standard 10 inches round stick.

Ideal for creating a calming atmosphere at home or the office. Perfect for pujas, aroma therapy and meditation

Safety directions: Burn away from children and pets. Ensure that ashes fall on a fireproof and heat-resistant surface. Quantity: 50 Sticks
Directions for use : Light the coated tip of the incense stick. Once the tip catches fire, gently put out the flame. Caution : Place the incense stick in an incense stand on a fire proof & heat resistant surface, away from any inflammable material. Use the incense stick with care and in ventilated spaces. Keep away from children.
Brand
Blue Rose
Premium Scented Masala Agarbatti from Arihant Incense Countrywide Co. based in Bangalore. It is known for manufacturing export quality agarbatti, dhoop sticks and Dhoop Cups. Specialized in flora or masala incense sticks.