Lallantop Agarbatti 780 gm Ridhi Sidhi Perfect incense sticks
₹420.00
General features of Lallantop Agarbatti
Length of the stick
22.86 cm
Type of bathi
Base Bathi
Burning Time
40 Minutes
Packing Type
Rectangular Packet
Fragrances
Traditional, Sandal, Oriental, Bouquet
Out of stock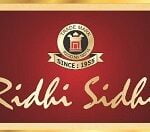 Description
Key Features of Lallantop Agarbatti Ridhi Sidhi  780 gm
Pack of 6 Total 780 gm.

Premium fragrance.

Wholesale pack sufficient for couple of months.

Good for daily home and office use.
Ridhi Sidhi Lallantop Agarbatti is a leading manufacturer in Incense industry. It is known for producing quality products with strong fragrance.

Burning time: Around 30-40 minutes per sticks.

Does not produces much smoke.
A 'masala' or mixture of 100% natural aromatic botanicals (no charcoal) are rolled into natural bamboo sticks as compared to 'dip incense' in which sticks of charcoal are dipped into synthetic fragrance or essential oils.
Infused with the abundance of nature these aromatic ingredients combine to produce a smooth, slow-burning dhoop sticks. The result is a fresh and fragrant breath of conscious bliss. Hand rolled natural bamboo sticks into a masala (spice mix) containing Aromatic Herbs in a propreitary base of Jeegat (natural bark) and other aromatic floral extracts resins and essential oils.
Our classic Ayurvedic incense do not contain synthetic fragrances, glue, toxic fillers or burners, charcoal or dung. We not use apply the dipping technique, thus creating non-toxic incense sticks, suitable for indoor use. Suitable for indoor use, safe for children, elderly and pets.
To light the Lallan Top Ridhi Sidhi Agarbatti sticks:-
Place the stick with the non-coated end on a heat-resistant surface, such as a trivet or ceramic tile.

Hold a lit match or a lighter flame to the coated end of the incense for ten seconds or more till it lights.

T

he beautiful and divine smell of an Agarbatti lifts the spirit of the devotees and clears their minds off ill thoughts.

Blow out the incense flame and let it begin to smolder.

The incense stick will smoke light gray to white in color.

Never leave burning incense unattended.

When done, you can use the ash as combust for your plants.
Nature's Gift Earth Incense Sticks is based on the earth element of pancha bhoota; the five great elements which are the basis for all cosmic creations.
The Earth tatva denotes stability and endurance. It reminds us to grow, yet stick to our roots firmly to be stable, also to maintain balance in life and in nature. Experience the magnificent blend of earthy, mossy and fresh notes with this new range of incense sticks from Ridhi Sidhi.
World Class Products
We make world class products that are exported to 65+ countries.

We follow international fragrance ingredient standards.

We conduct 14 quality checks to ensure every incense burns uniformly, so every prayer is free from interruption.

Our products are made with the highest global quality standards without harming the environment, in the safest manner.

We empower rural women by providing employment.
The element of earth or prithvi holds things together. Earth's innate nature is to support the human and non-human species of the environment which proves to be a signifier of strength, stability, balance, calmness, grounding, resilience and confidence. The element of water or apa is a lifesaver, a giver of pleasures.
The element of fire or tejas burns anything that comes in contact with it. The way in which we perceive this characteristic of burning is completely in our hands. Swami Vivekananda asserts that "The same fire that cooks a meal for us may burn a child and it is not fault of the fire if it does so; the difference lies in the way in which it is used."
Essential oils have many benefits which depend on the fragrance you choose. The best essential oils are made from plant extracts, roots, traditional ingredients and are often used in aromatherapy. You can use the oils in a diffuser for a soothing scent.
We all know that the sense of smell is closely tied to our memories and emotions, perhaps more so than any of our other senses. This is because when we smell something, it passes through the olfactory bulb, which runs on a passage from the nose along the bottom of the brain, connecting it to the hippocampus and amygdala. These brain areas are responsible for our deep memories and feelings, which is why essential oil scents can be powerful. It can help relax the body, help sleep, and reduce headaches.
At Ridhi Sidhi, we have natural essential oils that are made from recycled temple flowers, plant extracts, roots, and other toxin-free ingredients that are safe to breathe and best for healing purposes.
Brand
Riddhi Siddhi Agarbatti
Rajkamal Perfumary Works in Indore is one of the leading businesses in the Agarbatti Manufacturers. Also known for Agarbatti Manufacturers, Dhoop Manufacturers, Sandalwood Agarbatti Manufacturers, Chandan Agarbatti Manufacturers, Agarbatti Stand Manufacturers, Agarbatti Stick Manufacturers, Fancy Agarbatti Manufacturers, Scented Agarbatti Manufacturers and much more. Find Address, Contact Number, Reviews & Ratings, Photos, Maps of Rajkamal Perfumary Works, Indore.