Pineapple Agarbatti 780 gm Ridhi Sidhi Best Incense sticks
₹ 420.00
General description of Pineapple agarbatti
Length of the stick
9 inch
Type of bathi
Scented Bathi
Burning Time
30-40 Minutes
Packing Type
Zipper Pouch
Fragrances
Pineapple
Pack of
6 UNITS/Zippers
Out of stock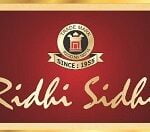 Description
Highlights of Pineapple Agarbatti Ridhi Sidhi Incense sticks
Burn Time 40-45 Min
Length = 9 inches
Color = Brown
Weight = 780 gm
Pack of = 6 zippers.
The mesmerizing fragrance calms and soothes your senses.
Brings an environment of positivity to your home or office.
Ridhi Sidhi Agarbatti is a leading manufacturer in Incense industry.
It is known for producing quality products with strong fragrance. It takes a special kind of incense to be able to create a special atmosphere. This special Pineapple Agrabatti, which is spicy yet sweet, has that unique quality. Bring it home to lend a matchless touch to your surroundings.
Pineapple Agrabatti encapsulates a gentler version of the sensual fragrance of Tuberose. The Pineapple incense sticks exude faint, creamy, floral hints of the fresh blossoms engulfing the surrounding with mesmerizing fragrance. Tuberose or Rajanigandha literally means "Fragrance of the Night" or "Night Fragrance" primarily because the fragrance of the flower heightens at dusk. An unmistakable fragrance that calls for attention due to its heady scent.
As per Hindu Mythology using incense is considered to be one of the most sacred acts to be offered to god. Every natural Incense Sticks fragrance contains certain properties which purify the air and induce good or positive vibrations in the environment. This helps a person concentrate more easily during meditation or a puja ritual. Incense Sticks are widely used in Indian homes and will bring purity to your houses.
All our Agarbatti (incense) sticks are handcrafted from recycled flowers sourced from worship places and dipped in natural essential oils. The items are curated with bunches of love, faith and 100% organic material. Nothing from the brand contains charcoal and are safe and toxic free.
Supplanting charcoal with the bloom squander goes about as potential waste administration answer for the blossom squander, it is more vitality productive and creates lesser carbon emanations. It is also commonly used for Aromatherapy, Home Fragrance and Meditation.
Enjoy comforting, subtle, and relaxing fragrance at home or office in the mist of the ocean breeze that help you sweep away to the coast of fresh, aquatic winds. Bring home this Pineapple Agarbatti or incense pack that will fill your abode with soothing and calming aroma.
Pineapple incense sticks have a woody and spicy aroma with a hint of resinous notes, perfect for rejuvenating the mind & body. It is widely used for Aromatherapy and Spa.
It is organic incense sticks have therapeutic properties that naturally calm the mind & body, helping in relieving stress and uplifting the mood.
Made from sacred temple flowers, 100% natural essential oils. Ridhi Sidhi natural incense sticks are hand-rolled by our women flower-cyclers.
Charcoal-free incense sticks dipped in natural essential oils. Ridhi Sidhi Organic Incense sticks are safe and healthy and one of the best stress-relievers.
Essential oils have many benefits which depend on the fragrance you choose. The best essential oils are made from plant extracts, roots, traditional ingredients and are often used in aromatherapy. You can use the oils in a diffuser for a soothing scent.
We all know that the sense of smell is closely tied to our memories and emotions, perhaps more so than any of our other senses. This is because when we smell something, it passes through the olfactory bulb, which runs on a passage from the nose along the bottom of the brain, connecting it to the hippocampus and amygdala. These brain areas are responsible for our deep memories and feelings, which is why essential oil scents can be powerful.
At Ridhi Sidhi, we have natural essential oils that are made from recycled temple flowers, plant extracts, roots, and other toxin-free ingredients that are safe to breathe and best for healing purposes.
Brand
Riddhi Siddhi Agarbatti
Rajkamal Perfumary Works in Indore is one of the leading businesses in the Agarbatti Manufacturers. Also known for Agarbatti Manufacturers, Dhoop Manufacturers, Sandalwood Agarbatti Manufacturers, Chandan Agarbatti Manufacturers, Agarbatti Stand Manufacturers, Agarbatti Stick Manufacturers, Fancy Agarbatti Manufacturers, Scented Agarbatti Manufacturers and much more. Find Address, Contact Number, Reviews & Ratings, Photos, Maps of Rajkamal Perfumary Works, Indore.